George Hannah
R&D and Engineering Director, Global Core Thermal Management

, Vertiv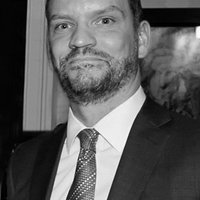 George began his career in the data centre cooling industry back in 2001. He began as a junior engineer designing close control units and heat exchangers. Overtime his responsibilities grew to cover the technical leadership of data centre, process and comfort cooling technologies. He joined Vertiv at the beginning of 2017 as the EMEA Thermal Technical Director, and now stewards a capable team of talented engineers across the globe developing close control, chiller and adiabatic solutions for some of the world's most important data centre operators.
Since starting in the industry, his main goal has been to advance the efficiency and reliability of cooling solutions by listening to customers challenges and addressing them by investing in engineering talent, and working in close collaboration with leading academic institutions such as Padova University Italy or Leeds University in the UK.
George attended Heriot-Watt University in Edinburgh where he received a BEng Hons in Mechanical Engineering. He is also a Chartered engineer with the IMECHE and a full member of ASHRAE.