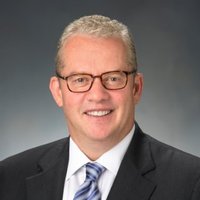 Michael Britt
President & CEO
,
Southern Telecom, Inc
Michael Britt serves as president and chief executive officer of Southern Telecom, Inc., a wholly-owned subsidiary of Southern Company. Southern Telecom provides long-haul and metropolitan dark fiber connecting Atlanta with other cities throughout the Southeast.
In addition to leading the Southern Telecom business, Britt is also responsible for supporting the telecommunications strategy for Southern Company's electric utilities. This includes helping to facilitate systemwide and individual operating company efforts to advance our telecommunications infrastructure for future digitization needs and for identifying opportunities to grow wireline telecom revenue.
Britt rejoined Southern Company in 2015 as vice president of the Energy Innovation Center to focus on developing and commercializing products and services that benefit system customers. While at Southern Company during the late 1990s, Britt served as assistant to the chief information officer, director of mass market strategy and vice president of Southern Telecom.
Outside of Southern Company, Britt served as Partner for Oliver Wyman Utilities Strategy practice responsible for the Southeastern US; COO of the North American Strategy practice for Accenture in San Francisco and Atlanta; as well as Manager of utility and telecom practices for PA Consulting in Atlanta. While at Accenture, Britt earned the company's highest honor for strategic achievement, the Ken Ernst Worldwide Innovation Award.
Britt has served as vice president of Competitive Carriers of the South (CompSouth), a federal and state lobbying and joint regulatory organization, and is the author of numerous articles and papers on the continuing evolution of the electric utility industry.
A graduate of the University of Pennsylvania, Britt graduated with honors with a masters of business administration from the University of Notre Dame.