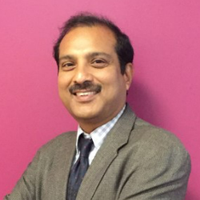 Shesha Krishnapura
Intel Fellow and IT Chief Technology Officer
,
Intel
Shesha Krishnapura is an Intel Fellow and chief technology officer in the Information Technology organization at Intel Corporation. He is responsible for advancing Intel data centers for energy and rack space efficiency, high-performance computing (HPC) for electronic design automation (EDA), and optimized platforms for enterprise computing. He is also responsible for fostering unified technical governance across IT, leading consolidated IT strategic research and pathfinding efforts, and advancing the talent pool within the IT technical community to help shape the future of Intel.

Krishnapura has led the introduction and optimization of Intel® architecture compute platforms in the EDA industry since 2001. He and his team have delivered five generations of HPC clusters and four supercomputers for Intel silicon design and device physics computation. Earlier in his Intel career, as director of software in the Intel Communications Group, he delivered the driver and protocol software stack for Intel's Ethernet switch products. As an engineering manager in the Intel® Itanium® processor validation group, he led the development of commercial validation content that produced standardized workload and e-commerce scenarios for successful product launches. He joined Intel in 1991 and spent the early years of his Intel career with the Design Technology group.

A three-time recipient of the Intel Achievement Award, Krishnapura was appointed an Intel Fellow in 2016. His external honors include an InformationWeek Elite 100 award, an InfoWorld Green 15 award and recognition by the U.S. Department of Energy for industry leadership in energy efficiency. He has been granted several patents and has published more than 75 technical articles.

Krishnapura holds a bachelor's degree in electronics and communications engineering from University Visvesvaraya College of Engineering in Bangalore, India, and a master's degree in computer science from Oregon State University. He is the founding chair of the EDA computing board of advisers that influences computer platform standards among EDA application vendors. He has also represented Intel as a voting member of the Open Compute Project incubation committee since its inception.