Sunil Gupta
Managing Partner & CEO

,

Yotta Infrastructure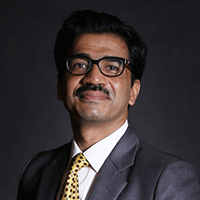 Known as the Data Centre man of India, Sunil has unmatched experience in the Data Centre, Cloud and Managed IT Services industry.
He is best known as the person who has built and operated the most number of 3rd party data centres in India.
With an experience of setting up 15 data centres spread over 20 lakh sq. ft, including 4 hyper scale data centres in last 4 years itself and running cloud, hosting and managed services businesses for last 19 years, Sunil is an Engineering graduate from NIT Kurukshetra and Management graduate from Columbia University New York.
Sunil is also an angel investor, as part of CIO Angel Network (CAN), and loves to mentor and promote startups operating in new technology areas like AI/ML, IoT, big data & analytics. Sunil is a regular speaker and panelist at major industry events like Gartner IODS, CIO Leadership Summit, CIO Crown, IMA CEO/CFO summits, Interop, Datacenter Dynamics etc.