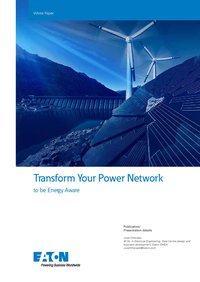 Data centers can now support the electricity grid and be compensated for it. Eaton's EnergyAware Uninterruptible Power Supply (UPS) allows organisations to make money from their existing investment in a UPS by enabling them to help energy providers balance sustainable energy demands. With certain incentive schemes, an EnergyAware UPS can even stack up financially in its own right, allowing data center operators to pre-develop their power infrastructure.
The energy transition has introduced exciting opportunities in how we produce and consume energy. Electricity grids are experiencing significant challenges due to the growth of renewable energy and the introduction of new forms of energy demand – heating, transport, and digital controllers
This whitepaper explores how digitalization can help data center's transform their power networks to become reduce their carbon footprint.