AI is predicted to take off quickly, with a massive demand for high-performance chips, in high-density racks. But how will all this capacity be powered - and more to the point, where will it be located?
"We can't put it all in the current data center hubs like Frankfurt, London, Amsterdam, and Paris," a site selection specialist at a hyperscale builder said to us recently. "If we tried to do that, the governments would close us down."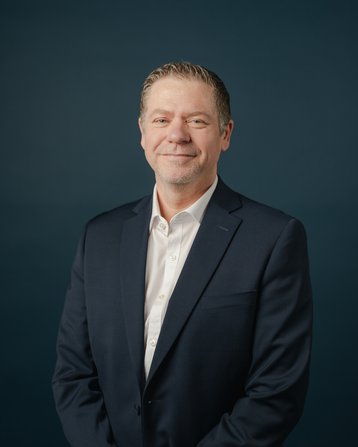 The existing so-called FLAP-D hubs (Frankfurt, London, Amsterdam, Paris, and Dublin) are struggling to cope with the demand for conventional data center capacity. There are well-publicized energy distribution issues in Amsterdam, London, and Dublin, and Frankfurt has issued a plan restricting the locations of data centers.
Power-hungry AI
Adding a massive fleet of AI facilities will require new data centers on top of the growing population of conventional facilities. It will also strain the net-zero promises of large operators. Denmark and the Netherlands have recently limited hyperscale developments, which soak up large amounts of renewable power that is needed for national decarbonization efforts.
AQ Compute says part of the answer is to build specialized AI and high-performance computing (HPC) sites in more remote areas, starting with a facility powered by green electricity from Norway's plentiful hydroelectric dams. Built from scratch, it's possible to put liquid cooling in from the start and connect to a district heating system, so heat does not get wasted.
"The first customer will move in, in mid-December, and we will go live with IT power capacity in January," says Andreas Myr, the CEO of AQ Compute in Norway. "By April, we will be fully operational with 6MW."
Launched in 2020, AQ Compute is a subsidiary of Aquila Capital, a German investment group that specializes in renewable energy, AQ is also building a data center in Barcelona, as well as the facility in Hønefoss, just outside Oslo.
"Our strategy is to look into Tier 2 or Tier 3 cities," says Myr, who was previously VP for data centers at Orange Business Services. "We are focusing a little bit outside FLAP-D, on plots where we have renewable power available, and also looking into sustainability, to reuse the heat."
AQ-OSL-1 in Hønefoss will be first on-stream. It is on a business park with three nearby hydro dams - the nearest only 800m from the site.
AQ has an anchor tenant taking a large proportion of the data center's 1,700 sqm (18,300 sq ft) of white space. Myr won't give much detail, except to say the client is a company that specializes in HPC, and a number of 500kW halls remain for other tenants.
"It's a high-density customer, with a mix of high-density (40kW) racks and a little bit lower-density storage racks," says Myr.
Part-way through construction, the site was customized explicitly for AI and HPC: "We have a new data center, with no legacy, so we had the possibility to build what the customer needed," says Myr. "For this anchor customer, we are doing a closed-loop water cooling system."
That was a change from the data center AQ originally planned to open in 2021: "We saw that we needed more than air to cool the racks down. So we redid our solution and we went with rear-door heat exchangers for all of the racks. It's a mix between active rear doors and passive rear doors for the racks with low density for this specific customer."
Rear-door cooling
The anchor tenant helped choose a UK-based rear-door cooling provider, and thanks to that switch, their space will not need any mechanical air conditioning units. Any additional requirements can be covered by free cooling based on Norway's chilly outdoor temperature.
"We started with both air-to-air and direct cooling," he tells us. "But since we now focus on high density, we have taken out the HVAC units."
So Myr has a number of unused HVAC systems for sale, originally intended for the anchor tenant's halls. Given the high demand for data center M&E plant, he's hopeful of getting a good price: "We are trying back what we paid for them."
The remaining halls may go beyond rear-door cooling, depending on the exact needs of tenants, says Myr, but they are more likely to need deeper liquid cooling than HVACs: "Our strategy is to have AI-ready data centers. And for this, we will also need direct cooling," he says. "I think in the next six months there will be a move towards direct-to-the-chip cooling."
Plugging in different cooling systems will be straightforward, says Myr: "Basically, you have to have smaller cooling devices and pipes. To cool the racks we need to tweak it a little bit, but underneath is the same solution."
There's no decision yet on what system to use for more direct liquid cooling. It will depend on the customers, and also on recommendations from Nvidia, whose GPU chips will predominate in the AI spaces.
"We are looking to what Nvidia prefers the vendors to do, because we're working on being an Nvidia-certified data center," he tells us.
Beyond direct–to-chip, AQ can support immersion cooling or two-phase cooling, but Myr doesn't report any demand as yet: "I have seen one in Norway that asked for immersion cooling, but they went away from it. Right now there are really no requests for immersion."
If that changes, AQ will be ready: "If they want immersion cooling, of course we will set up a system to be able to handle that. It will not be a problem," he says, explaining that the building has lifts big enough for horizontal tanks, and raised floors strong enough to support large baths of coolant.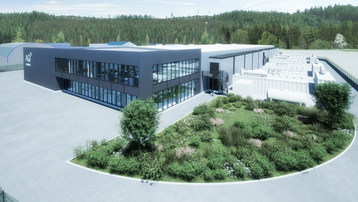 Any immersion tanks will need to be connected indirectly to the cooling loop through a heat exchanger.
Tapping heat from the loop
This future-proofed water circulation loop, designed to support present and future liquid cooling, is installed under the raised floor, for reasons Myr says are obvious:
"I don't like it when the water pipes go above the racks. That's a huge risk element in my opinion."
Myr plans to sell the facility's waste heat to a district heating system which the local utility runs across the industrial park.
"We're finalizing agreements with several other companies in that area to be able to reuse heat from the data center," he tells us. "And because we're using rear door cooling, we can reuse the heat more efficiently than with air cooling."
The outlet water is not the "high, high" temperature that some systems can produce, he says: "So it's low heating. We can reuse it to heat up office buildings and things like that. The utility company will do a part of the work and, if needed, increase the temperature of the return water, with heat pumps."
He's enthusiastic about heat reuse, saying that low-density colo providers in Norway often can't do it, because they use free cooling with outside air: "But then you let out most of the heat into the surrounding areas and you don't reuse it. Why would you do that? It's more efficient to reuse it."
Building in liquid cooling from scratch saves a lot of cost, and effort, says Myr: "Our main competitors are using both [liquid and free air cooling]. But legacy data centers in Norway are still free cooling. It costs a lot of money to change a legacy system."
For clients moving in alongside the anchor tenant, there are definite signs of AI work migrating from other hubs: "Most of our requests are from international customers, not that many Norwegian customers. We are focusing on units of approximately 500kW, so we are not talking about single-rack tenants."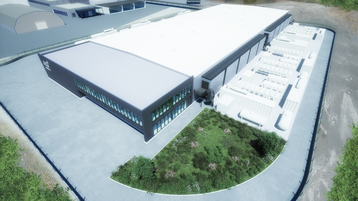 He tells us: "About 70 percent of those requests are for high-density AI solutions. In the last year there has been a real increase in demand for high-density AI."
Is there enough power?
Myr says AQ Compute plans to announce several new locations by the end of the year, partly driven by demand for AI computing.
But if this demand, and the density of the IT, really ramp up, is there a danger that data centers might use up renewable capacity and disrupt Norway's overall net zero ambitions?
"That's a good question," Myr responds. "AQ Compute is owned by Aquila Group, and they have focused on renewable energy. If we build a data center which uses 10MW of power, then Aquila will produce 10MW of new renewable power."
If this includes any new wind or solar power, Aquila would have to work to match the hourly demand of the data center, though that would not be such an issue with hydroelectric power.
Another potential problem is if data center developments expand more rapidly than renewable capacity can be provided: "Right now, we don't have that problem," says Myr. "But when that problem occurs, we of course need to look into it."
Overall, Myr is hopeful that Scandinavian countries can provide enough low carbon energy to support an AI boom: "I think in the Nordics, because of our hydropower, we are in a situation where we can do this in a sustainable way - but of course, it depends on the total amount of AI that's needed.
"We don't know that yet."