Ahold Delhaize had a problem. Across thousands of stores in Europe, its IT footprint was getting out of hand.
In a single store, one could find a server for its own internal applications, another for external parties and checkout counters, yet one more for self-scanning devices, still more for the car park management system, firewalls, and further infrastructure for public and private Wi-Fi.
And that's just in Delhaize's own self-branded stores. After decades of mergers and acquisitions, the company has numerous subsidiaries and franchises, including the US-based Food Lion, Giant Food, and Stop & Shop.
"Some of these franchises might have an affinity with IT and have bought the latest, greatest beautiful servers, in a high availability setup, and others, were still running 12-year-old servers, using them as a coffee plate, and sometimes spilling coffee over them," Johan Pellicaan, Scale Computing VP and MD for EMEA, said in a DCD>Inside Retail & Logistics panel.
The result was a lot of finger-pointing between different vendors and divisions when something went wrong, extended downtime, and security concerns.
Ultimately, however, Delhaize could not just simply get rid of all the troublesome IT and move it all to the cloud.
"We need IT because some of our applications in the stores needed to have an Edge computing solution because of the design of the application," Delhaize's IT infrastructure manager, Frédéric Paulet, explained.
"And because of the latency - if you talk about POS (point of sale), and people are scanning items on our cash register, then you need to have a very fast time of response. So we had to choose to keep all the applications running in the store."
Rolf Vanden Eynde, manager of network, strategic infrastructure, at the Dutch company, added: "Delhaize needed to rapidly deploy resilient in-store infrastructure to support existing workloads as well as new data and processing-intensive initiatives such as cashier-less checkout and customer safety and security measures."
Facing this challenge, Delhaize called on the tech community for help. After a lengthy tender process, Delhaize settled on a solution codeveloped with Scale Computing and Lenovo, which would go on to win a DCD Award in 2021.
"The concept is very interesting - what Delhaize has created is what they call the '1-Box,'" Pellicaan said. "Basically it's a complete, integrated, system with three servers and a firewall."
He continued: "They use off-the-shelf two-thirds rack servers, which was a key element also because it helped Delhaize to save space. And they have physical switches in there."
For the system, the company moved from a physical firewall to a virtualized one offered by F5 Security.
After an eight-month trial at a limited number of stores, Delhaize in 2018 began to roll it out across the hundreds of stores that carry its own brand name. Then, in 2020, came a much greater challenge - trying to get it to work with the thousands of myriad franchise stores around the world.
In many cases, space was even more of an issue, with a two-thirds rack still too large. The team also realized that there was no need to have a traditional server, because there was no one on-site who could service or replace it anyway.
"As a result of this, the 1-Box Level Two came out," Pellicaan said. "And that contained a number of new elements."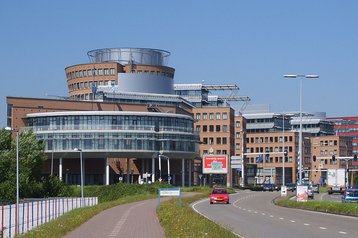 Notably, it shifted to the Intel NUC platform, essentially a tiny PC crammed into a small, contained box. "It basically means a completely new way of thinking about service and setup," Pellicaan explained. "It's specially designed. I would say, for the Edge where size is important.
"And when one breaks, we just put a new one in and send the other for warranty exchange. It's a very easy setup, completely different, which makes the life a lot of people filled with much fewer headaches."
There are other benefits he rattles off - lower power usage, fewer material emissions given the smaller size, and cheaper shipping.
These were all critical factors in deciding to take this approach, Delhaize's Paulet said. "We are always driven by the cost, that was really the main point."
This cost-cutting focus also meant that the Level Two when back to physical firewalls.
"F5 was an expensive solution and also it needed people with a good knowledge, and it was really a mess to find people who are able to manage the solution," Paulet recalled, adding that there were also issues where the virtual machine went down and took the service offline. "So we looked for another solution, looking for something cheap, then cheaper, and cheaper."
They settled on a Fortinet virtual firewall, but then noticed that the physical version was even cheaper. It also allowed for another cost cutting measure - removing the two switches found in the Level One, and just using the physical firewall.
"The two drivers were cost and stability," Paulet said.
The new One Box is now making its way through Delhaize's sprawling network of retail outlets, bringing a modern Edge to some stores that date back to the 1800s. 