Virginia
Watch sessions on-demand
The virtual conference for the multi-tenant data center ecosystem
Tech Showcase - Cooling
This session took place on December 2, 2020
Please complete the following form to access the full presentation.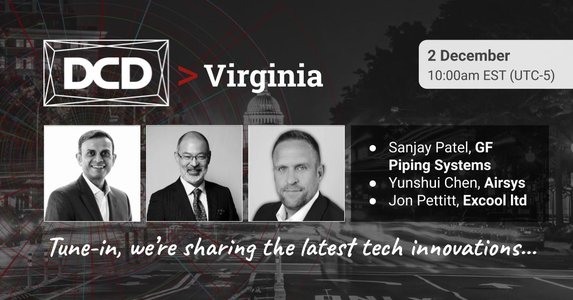 Tech Showcase - Cooling
A series of quick-fire presentations showcasing the latest technologies to drive rapid expansion and innovation across data center cooling.
10:00am - Airsys: Crossing the Infrastructure Chasm for CoLo, Data Center and Telecom companies.
Major new challenges and opportunities face data infrastructure owners and operators over the next five years. These will be generated through major industry disruptions caused by such innovations as 'Free Cooling' to 'Cooling Free' technology and a re-balancing of the CAPEX to OPEX investment model. This session will create a window onto the future and provide useful insights for engineers and executives with responsibility for infrastructure.
10:20am - GF Piping: Leading Edge Plastic Piping Systems for Cooling Data Centers
Starting at the front end of a project, GF Piping Systems supports engineering and designing to ensure a sustainable and efficient solution is available. Our competence in all applications and proven references throughout the entire product range ensures the highest quality of management during project planning and execution. Studies show that up to 40% of design errors result in stress cracks while another 22% are linked to water hammer. When looking at the consequences of those design mistakes, the concern only grows bigger: Failures usually result in downtime, which costs over $100,000 per hour for 98% of organizations, or contributes to project delays, that nowadays still affects 55% of construction projects. The name of the game is, therefore, to prevent design errors from happening. This is where GF Piping Systems specialists can bring tremendous value, by accounting for the specificity of piping systems design.

10:40am - Excool: New approaches to zero-water cooling at scale
The industry concerns around water availability, consumption and associated maintenance for Hyperscale and large scale data center developments are permeating the engineering and design of cooling systems. Can the latest innovations help to slow the rising tide of water stress?
This presentation will dive deep into how a low water consumption approach can be achieved with indirect evaporative cooling, through a series of short hands-on video demonstrations recorded at the Excool test lab, with commentary and Q&A with Excool's CCO Jon Pettitt.
Brought to You by