Energy Smart
Visit 2021 event
The industry's most important FREE virtual conference on climate change
We focused on the snake and missed the scorpion: Five simple strategies to save billions of watt hours in data centers
This session took place on April 27, 2020
Please complete the following form to access the full presentation.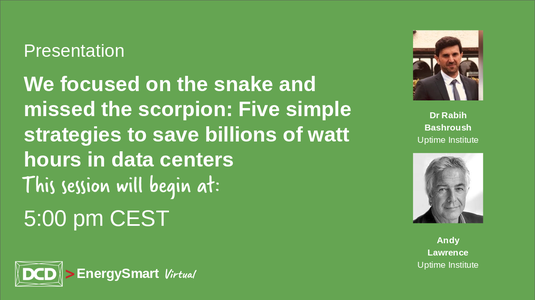 We focused on the snake and missed the scorpion: Five simple strategies to save billions of watt hours in data centers
Analysis of power use by over 300 European data centers, and of the energy use characteristics of deployed servers, shows that over 60% of the power used by IT in data centers is used to process just 7% of the work. For those that seriously want to reduce energy consumption, the strategies are clear enough. It's a matter of corporate will, not massive infrastructure investments.
Join this session to hear more about possible energy savings and the challenges we face in terms of energy consumption of the Cloud and IoT.
Brought to You by