Singapore
Watch sessions on-demand
The virtual conference for the ASEAN data center industry
Critical Power Tech Showcase
This session took place on September 15, 2020
Please complete the following form to access the full presentation.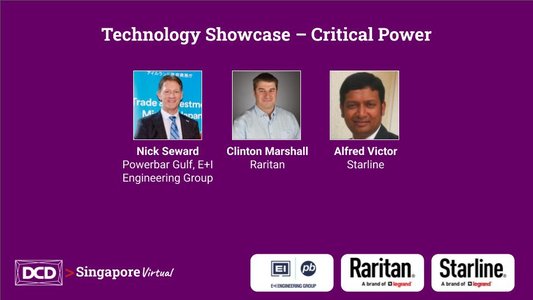 Critical Power Tech Showcase
A series of quick-fire presentations showcasing the latest technologies to drive innovation in how we power data centers in the Southeast Asian market.
E+I Engineering Ltd: UL 857 High Powerbar - A Modern Solution for Electrical Power Distribution
Thermal stress is a primary factor affecting the safety and reliability of power distribution equipment. As the demand for data increases, organisations are being challenged to increase power capacities at a rapid rate, thus increasing temperature rise and system volatility. As a result, choice of insulating material has fast become the most fundamental component for modern busbar trunking solutions. In this session, E+I Engineering will define how the UL857 High Powerbar solution addresses common challenges faced in the data centre industry, offering a superior level of safety and power reliability that can be tailored to your unique specification.
Starline: Reliable Power Distribution in the Data Center
When a rack or server goes down, tens of thousands of lost revenue per second can occur for data center operators. There are methods that can help identify possible issues before they become critical as well as Starline Track Busway design features that can improve reliability and uptime.
Raritan: Data Center, Edge and Lab Environments – Using the proven technology you already have to remotely manage IT Infrastructure
Adopting new technology may be counter-productive as they are either so new, there is little research if proven benefits, require a steep learning curve to operate or skills to integrate to existing systems. Maybe it's time to look at the existing proven technologies you already have, and integrate with them thus extending your investments into the future.

Brought to You by