Case Study Panel: what drives project innovation?
This session took place on October 6, 2020
Please complete the following form to access the full presentation.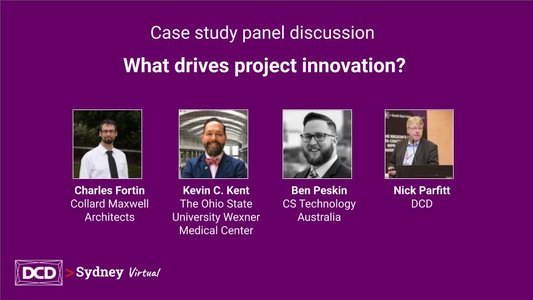 Case Study Panel: what drives project innovation?
This panel will bring you 3 projects that demonstrate cutting-edge innovation in data center design, build and operation. The panelists will discuss what has driven their projects and how they evolved specific answers to critical questions to move forward. So, join us to take a fresh look at micro-grids, the crypto-facility and data center consolidation and the role such innovations will play in the future of data center design and operation locally.
---
Will emerging digital technologies make the industry "skills shortage" here better or worse?
Roundtable discussion | 14:00 to 14:50 AEDT
If you are an avid networker, naturally inquisitive and eager to take part in an interactive learning environment, albeit virtually, or if you prefer to sit in to listen and learn, we would like to invite you to join up to 20 of your peers for this themed roundtable discussion.
We encourage you to have your say on pivotal subjects we have addressed during the day's proceedings using a state-of-the-art video conferencing platform.