Corporate Learning & Development
Data center training solutions for a global workforce
DCD>Academy is the leading international provider of corporate L&D services to the data center industry. Our credential-based learning framework includes e-learning, instructor-led and micro-learning assets which can be applied to the range of educational outcomes that organizations who plan, build, operate and supply digital infrastructure may require.
By combining our proprietary education framework with DCD's growing library of content resources, we are creating powerful blended learning solutions that enable truly continuous professional development.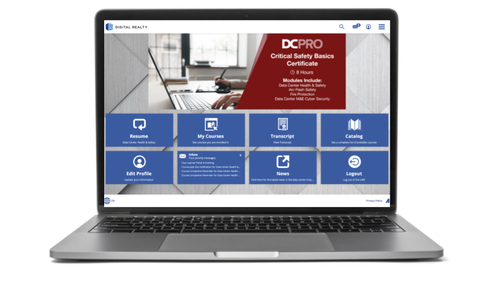 This blended approach to learning allows us to tailor training programs that are highly flexible, time and cost effective, efficient, and deliver results quickly for deployments of 20 to 2000 people. We are a perfect complement to existing product and site specific training that you may already have. Here are some of the corporate services we provide:
Knowledge assessments
Workforce benchmarking
Customized training plans
In-house training
ROI reporting
Each segment has its own set of skills challenges
As a product development and solution sales organization it is imperative that technology vendors provide their frontline staff with an independent view of the market they work in, in addition to the product training developed in-house. A focused and educated workforce unlocks potential and opportunity across the whole value chain.

The multi-disciplinary nature needed for the design and operation of 7x24 mission critical data center environments often makes it difficult to find adequately prepared staff. DCD>Academy can help you tailor a professional development strategy that up-skills your team and prepares them for the many challenges they will face managing an on-premise data center portfolio.

Managing training within organisations that provide "Infrastructure as a Service"  is complicated given the variety of learning requirements needed, but it is essential to maintain the competitive edge. DCD>Academy has a flexible approach to workforce development and we even work with you to bespoke our materials to fit your requirements exactly.
+ More info

Consulting Specifiers

Improving your knowledge and skill sets within a fast moving industry can open up new job opportunities and help you develop your career and earning potential. We can help individuals who want to embark on a career in the data center industry as well as those who want to develop their skills and improve their job opportunities.


+ More info
We can create semi-bespoke in-house training programs
All our instructor-led courses can be held at your premises, at a venue of your choice or as virtual classrooms that can engage teams across different time zones, without incurring the expense and loss of time associated with travel. And because your teams are learning together, they can discuss and debate the unique circumstances of your organization, making the learning even more relevant and effective. We can also work with the client to tailor elements of the course curriculum.
We can help baseline your workforce skills across geographies
Customized e-learning solutions enable organizations to proactively and efficiently equip employees with specialized knowledge and expertise to perform at their best. Additionally, leveraging a digital learning approach allows management to gain insights on their organization by measuring their staff's knowledge and productivity. Learning activities are underpinned by a Knowledge Assessment tool that helps highlight an individual's knowledge gaps and can suggest a specific training paths. Working with you, we will complete a gap analysis to define your employees' training needs.
Globally recognized credentials