Real estate investment group PMB Holdings is getting closer to launching a data center first announced in 2012.
The MK Data Vault in Milton Keynes, UK, was originally set to be completed in 2013, but has been facing years of delays. Now PMB is partnering with commercial real estate services and investment firm CBRE, and says the data center could be operational in as little as 12 months, offering 239,518 square foot (22,000 sq m) of data center space.
A long road
For a data center that doesn't exist yet, MK Data Vault already has a long history which interested us. You may skip to the next section, if you prefer.
The site was previously the location of Oyez print works at Maxwell House, owned by media baron Robert Maxwell. After his death in 1991, Maxwell's publishing empire crumbled, and it was revealed that he had illegally used hundreds of millions of pounds from his companies' pension funds to keep the Mirror Group from bankruptcy. This, along with numerous other debts, led to the Maxwell companies filing for bankruptcy protection in 1992. Assets were soon sold off.
This is where PMB comes in. It is unclear when the company acquired the building, but PMB chairman and founder Peter Beckwith incorporated Maxwell House LLP back in 2007.
Beckwith and PMB then incorporated Maxwell House Development Ltd in July 2011, renaming it Cumuladata Developments Ltd in September and finally MK Datavault Ltd in December.
By early 2012, the company was ready to reveal what it had planned for the location - with a flashy demolition of Maxwell House that involved Beckwith inviting Mirror Group pensioners who "had their pensions stolen by Maxwell's greed" to come and watch.
"We think it is a good thing for Milton Keynes to help bring an end to Maxwell House and look to the future," PMB's Johnny de Lisle told the BBC at the time. In 2015, de Lisle left to become a commercial director at Pure Data Centres.
At the demolition, Beckwith said that the company planned to turn the location into a data center, launching in 2013 with a £35m investment. Archives of the company's website at the time claim "powered shell ready for tenancy in 2013."
2011 planning permission documents show the company was still deciding how to build the facility. It separately put forward plans for three small data halls, two larger ones, or one massive one (of which there were three variations).
Permission was granted, but work did not appear to start at speed. Website archives show the company optimistically operated a 'webcam,' where visitors could watch the progress of the data center development - but, by 2017, all that was visible was a structure-less brownfield site.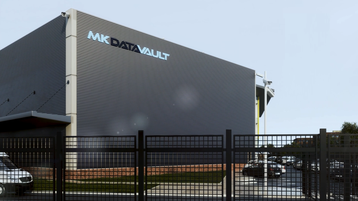 What now?
That brings us to today, with PMB announcing it has turned to CBRE to help bring the facility to market. New planning permission has been granted, as of July 2018, with the companies settling on one large two-story building.
"The original plans were drawn up for a DC but the team at the time were mainly property people and not data center-centric," Sandeep Sharma, director of PMB's Datacentre Division, told DCD.
Sharma, who has spent the last two decades in the industry at companies like Virtustream, Network-I and Elasticity, said that he joined in early 2018 along with a financial director, and now "it's really ready to go."
"Locating a site, getting the planning, power and the network is vastly time consuming and can take years," he said. "We have invested and worked hard to address all of the issues and ended up with a 'Ready to Build' dedicated data center site like none other in the vicinity, if not the UK... we already have interest and site visits being planned for May."
CBRE's Tom Glover said on LinkedIn: "With full planning permission, fiber and 29MVA available today (up to 80MVA) this is a remarkable fully provisioned site that you could have up and operational within 12 months."
Acting on behalf of of PMB, CBRE is looking for a company to move forward with on the 6.8 acre freehold site. The location has network connectivity from providers including euNetworks, Zayo, BT, Vodafone and Colt. "The network connectivity is amazing due to the Open University being nearby," Sharma said.
Sharma is also CEO of GTP3, a related data center company that recently completed a Tier III-Design certified data center in Birmingham, which he describes as the "finest data center North of Watford and South of Manchester."
GTP3 is also linked to Beckwith, who is a 'founding member' of the company and shareholder. Both GTP3 and MK Data Vault have other shareholders, some of whom are Beckwith family members. Sharma explained: "MKDV and GTP3 have a common majority shareholder, who is also the 100 percent shareholder of PMB. I am responsible for all projects in PMB except a handful that are pure property, Datacentre Director for MKDV and the CEO for GTP3, which owns the DC in Birmingham."
The GTP3-operated data center opened in 2016 with a 1.5MW/10,000 sq ft hall, and was built by Pure Data Centres - which was, for a time, a designated member of GTP3 and a management consultant. Funding for the site was partially provided by crowd funding.