Argentina's state-owned utility YPF Luz is powering a cryptomining operation using waste "flare" gas from a shale oil field in Northern Patagonia.
YPF Luz is operating a 1MW plant in the Vaca Muerta formation oil field in the Loma Campana area, which will burn gas that would be otherwise wasted from shale oil production. The power will be used to generate cryptocurrency, and YPF Luz has plans for a second, 8MW, plant.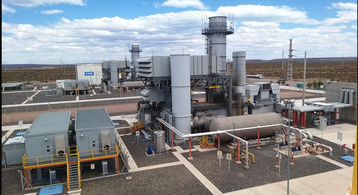 Several organizations associated with the fossil fuel industry have been burning natural gas to power containerized data centers located at oil wells, claiming that this is environmentally friendly or even "renewable" because it uses gas that is uneconomic to capture, and would otherwise be wasted by burning it off in flares.
Companies involved include Earth Wind & Power of Norway, Russia's Gazprom, White Rock in Texas, and Crusoe in the Southern US. They argue that burning the gas in a generator is more efficient, and releases less unburnt methane, which is a more potent (but short-lived) greenhouse gas.
Others see this as a way of greenwashing fossil fuel production, pointing out that using a small byproduct of the oil well does nothing to reduce the impact of the oil it produces. Mining for cryptocurrency such as Bitcoin has also been criticized as a profligate use of energy. Worldwide, cryptocurrency is reckoned to be using more energy than some entire countries - including Argentina - and potentially more than the rest of the data center industry worldwide.
Martin Mandarano, CEO of YPF Luz, told local news source Telam that this is a renewable energy source: "We started to develop this generation pilot for cryptocurrency mining with a vision for sustainability and business from flare natural gas, which cannot be harnessed during exploration and at the beginning of the production of an oil field." [Google translation].
"This first pilot that is already operating operates with 1 MW of generation and a second project is being developed simultaneously to start operating before the end of the year, of about 8 MW, in the Bajo del Toro area," Mandarano told El Economista.
The crypto miners will pay YPF Luz for the energy, Mandarano said: "sometimes tied to the price of the blockchain or sometimes at a fixed price for their global data processing."
Equipment used in this program will be nomadic, being set up at new oil wells and moved on when the flare gas is no longer available, because the oil and gas is being tapped for production: "Once the well is completed and oil and gas are already in production, the generation and mining equipment will be removed to another well at the start of development, because it is modular equipment and easy to transport."
Cryptomining is increasingly expected to rely on renewable energy sources, according to CoinGeek, which reports that Argentina has had a mining boom driven by "administrative inefficiencies and cheap energy stemming from power subsidies and FX controls". El Salvador has a government-backed mining plant powered by geothermal energy.
The US company Chevron is also exploiting the Vaca Muerta field but is not apparently part of the flare gas operation.