Digital Realty and Brookfield Infrastructure's data center joint venture in India has bought land in Mumbai for a new facility.
"The next stop is Mumbai," BAM Digital Realty said on LinkedIn this week. "We are glad to announce our latest land acquisition in Chandivali, a prime location in Metro Mumbai, for our second data center in India. As part of a globally connected community, we continue our foray to serve our customers in their digital journey."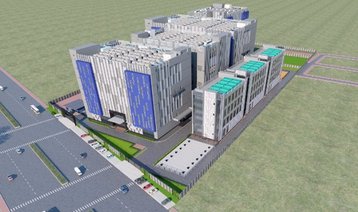 Local press reports the company has acquired a 2.15-acre land parcel in Chandivali, and plans to invest around $250 million in developing a 35MW facility.
"We are excited to intensify our momentum in India by expanding our footprint into Mumbai. The choice of the strategic location in Chandivali gives local and global customers convenient access to a well-connected facility in the heart of Mumbai. This adds a significant new metro to Digital Realty's safe and open global data meeting place," said Serene Nah, managing director and head of Asia Pacific, Digital Realty.
Arpit Agrawal, managing director, head of infrastructure, India and Middle East, Brookfield Infrastructure Group, said: "Mumbai continues to be a prominent data center hub reinforced by the ongoing rapid expansion of the Indian data center industry that is fuelling the country's significant digital transformation."
Digital Realty and Brookfield launched the 50:50 joint venture in July 2021 with the aim to build and operate facilities in "multiple Indian metros."
The companies paid $30 million for a 10-acre plot in Chennai in early 2022 and broke ground on a 20MW facility there earlier this year. That campus will eventually reach 100MW.
In August 2021, Brookfield acquired a 30-acre land parcel in Navi Mumbai for Rs 600 crore ($81m) from real estate developer K Raheja Corp, and reportedly plans to build a data center on the site.
Digital Realty and Brookfield Infrastructure also both own Latin American data center firm Ascenty, which has more than 250MW of capacity across 30 facilities in operation or development in Brazil, Chile, and Mexico.