Chinese data center company ChinData Group has filed for a US initial public offering.
The company, which will list under the ticker symbol 'CD,' is rumored to be looking to raise up to $400m.
Its SEC filing revealed several interesting details about the company, a majority Bain-owned business made out of ChinData and Bridge Data Centres - including the fact that a huge proportion of its revenue comes from one customer, the controversial Chinese firm ByteDance, which owns TikTok and is the subject of executive orders from President Trump.
Something about eggs and baskets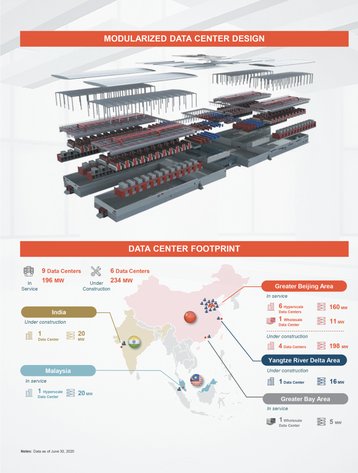 "We have in the past derived, and believe that we will continue to derive, a significant portion of our revenues from a limited number of clients," the filing states. "Revenues from ByteDance accounted for 68.2 percent and 81.6 percent of our total revenues in 2019 and for the six months ended June 30, 2020." That revenue came in at RMB581.8 million (US$82.3 million) and RMB661.5 million (US$93.6 million) respectively.
"Under the terms of our agreements with ByteDance, we customize data centers for ByteDance and provide ByteDance with comprehensive technical services for hyperscale data centers. ByteDance pays us service fees, such as cabinet fees and cabinet vacancy fees. The original contract term is typically ten years and the current contracts will expire between 2027 and 2030.
"These agreements will generally automatically renew if neither party notifies the other in writing that it will not renew the agreements within 30 days before the expiration and the renewal period will be separately discussed and agreed between the parties. As of the date of this prospectus, neither ByteDance nor we have early terminated any contracts."
The heavy reliance on a single company is a risk, ChinData admitted, and with that company being ByteDance that risk is potentially higher. The deal only covers services in China, where ByteDance operates the Douyin video clip sharing application.
Outside the Middle Kingdom, ByteDance operates TikTok, which US President Donald Trump has promised to ban if it is not sold to an American company this month. Microsoft, Walmart, and Oracle are all interested - but ByteDance is trying to fight the sale in court. ByteDance may also have to seek Chinese state approval for a sale, further complicating matters.
"Although all of our business with ByteDance is based in China, as there are uncertainties regarding the interpretation and guidance to be issued by the US Department of Commerce, there is no assurance that we would not be treated as a person or entity subject to US jurisdiction, or that we would not be prohibited from entering into any transaction with ByteDance pursuant to the executive order," the filing notes.
"Should ByteDance cancel substantial projects or otherwise significantly reduce its volume of business with us as a result of the executive orders, our revenues and profitability would be materially reduced and our business and results of operations would be seriously harmed."
In addition to the ByteDance deals, ChinData has one other major customer - CDN Wangsu. The company accounted for 11.1 percent and 7.1 percent of total revenues in 2019 and for the six months ended June 30, 2020 ($13.5 million and $8.2 million).
ChinData's business is still very heavily reliant on Chinese revenues - with the prospectus revealing the company operates two wholesale data centers and six hyperscale facilities in China and one hyperscale data center in Malaysia for a total of 196MW. But the company adds that it is "constructing five data centers in China and one data center in India," which will bring an additional 234MW.
A further 65MW is contractually agreed with clients; "in aggregate, we expect our total data center capacity to reach at least 495 MW by the end of 2021."
Outside of hyperscale and wholesale data centers, the company provides data center colocation services at smaller retail data centers where ChinData or an intermediary rents capacity from third parties. "As of June 30, 2020, we provided data center colocation services at 45 retail data centers in China," the company said.
Its single overseas hyperscale data center also has a high profile tenant - "Microsoft is a client for our data center solutions in Malaysia," the filing says.
With the money raised from its IPO, ChinData hopes to expand across Southeast Asia, using 70 percent for development and construction of new data center projects and about 20 percent for potential investment or acquisition of assets. India was repeatedly highlighted as a country with large data center growth that ChinData was eyeing. However, as of now, the company only has six employees in India, out of a total 765. That overall figure is slightly down from 786 six months ago, but well above the 477 of late 2018.
The prospectus includes several other interesting tidbits, including the fact that it achieved "an average annual PUE for [its] data centers in service of 1.21 in 2019, approximately 27.5 percent lower than the global industry average annual PUE of 1.67 during the same period, according to Uptime Institute."
The company also claimed that its construction cost per MW of data center capacity in service in 2019 was $3.6 million per MW, around half of the global industry average using best practices for a data center with capacity of 20MW or more of $7-8 million, according to Uptime Institute.
"We are able to deliver a data center with 36MW of capacity in China within six months of breaking ground for the site. In contrast, the global industry average delivery time using best practices of a data center with a capacity of 20MW or more is approximately nine to ten months according to Uptime Institute," it said.