Continent 8 has completed the expansion of its Atlantic City data center in New Jersey.
The company, a provider of gambling-dedicated data centers, has added 30 percent more capacity to its Atlantic City facility featuring a new 5,333 sq ft (495 sqm) Modular Data Center (MDC) addition.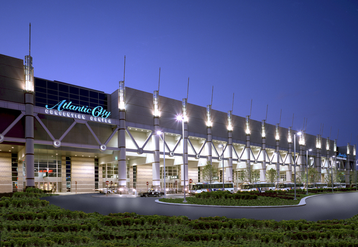 The data center is located within the Atlantic City Convention Center and is the only data center in the state that is dedicated to the online gambling industry. First opening in 2019, all capacity was leased out in three months. With the new expansion, the facility now spans over 15,000 sq ft (1,390 sqm) and houses around 120 racks.
The company first got permission for the expansion in February 2022 from the Casino Reinvestment Development Authority of New Jersey.
The facility has access to multi-state interconnect across the US, is fully compliant with DGE regulations, and is the only licensed facility that can house gaming infrastructure outside of a licensed casino. From the Atlantic City data center, customers can access private, public, and hybrid cloud services.
Michael Tobin, founder, and CEO at Continent 8, said: "It was a privilege to welcome so many stakeholders and all those involved in the Phase 3 expansion to our official opening. We are incredibly proud of the hub we have built in Atlantic City, creating an economic catalyst for South Jersey, and establishing a data center that enables companies in iGaming and beyond to connect to a global network."
The official opening of the new data center module took place on April 18 and was attended by Atlantic City Mayor Marty Small, Senator Vince Polistina, assemblyman Don Guardian, the executive director of the New Jersey Casino Reinvestment Development Authority, Sean Patwell, lead engineer of the Technical Services Bureau with the New Jersey Division of Gaming Enforcement, Afshien Lashkari, and chairman of the NJ Casino Control Commission, Jim Plousis.
Continent 8 Technologies is also expanding and adding secondary colocation sites in Iowa, Illinois, Kansas, Louisiana, and Puerto Rico.
Justin Cosnett, chief product officer at Continent 8, said: "Data center resilience is an important consideration for infrastructure planning. We also know that regulators across various states want to see licensed operators deliver resilient and reliable services to customers and partners.
"We have built our offering so that operators and suppliers to the industry can use our diverse MPLS-connected backbone to create disaster recovery, backup, or even active-active capabilities to guarantee availability."
The company first launched services in Iowa in 2019, Illinois in 2020, Kansas and Louisiana in 2021 and Puerto Rico in 2022.