During the Covid-19 pandemic, Digital Realty has kept up an increased program of construction, and found new ways to relate to customers and suppliers, DCD's Building at Scale heard today.
Brent Shinall, VP of supply chain and procurement at the giant data center provider, said that managing risk became even more crucial than before, during a keynote presentation on the second day of DCD's virtual event about building hyperscale facilities.
"We learned a lot of lessons on the way"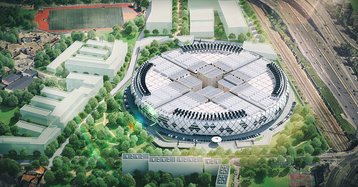 "We're all going through unprecedented times," said Shinall in a keynote which worked through all the lessons Digital Realty has learned in the last few months. "Managing risk is core - we always knew this was important, but the global pandemic has moved it way up the priority list."
During the pandemic, Digital Realty finalized a major merger with Interxion, and kept up with a plan to increase its rate of construction over 2019. This meant the company had to manage its pipeline of critical equipment to keep construction on schedule. The company decided to integrate its inventory of equipment globally, so individual projects could get the systems they needed.
It also tightened its supply chain control, all while keeping its staff and customers healthy and safe, and maintaining 100 percent uptime.
"We've minimized onsite data center staffing and drastically increased data center safety protocols," said Shinall. "We've got everything in place to provide a safe environment for our customers and our employees."
This included a new focus on ensuring the process of cleaning would never be interrupted: "I never in my career dreamed that the supply chain for cleaning supplies would be absolutely critical to our operations," said Shinall, describing how Digital Realty had to ensure that there was a robust supply of cleaning products and personal protective equipment (PPE) for staff.
The company engaged with "a very experienced industrial hygiene consulting company," which developed the cleaning protocols, and also ensured that government requirements were met: "We learned a lot of lessons along the way and also validated some of the strategies we had in place." Strategies included keeping track of the status of all its partners with dashboards, and maintaining redundant supplies to keep resilient.
"We have [a dashboard] for janitorial providers," said Shinall. "That might seem like getting down in the weeds, but it was critical that we know our suppliers have stock and inventory in place so we can keep our data centers secure."
"We've got to build redundancy to increase resiliency," said Shinall. "We've got to increase transparency up and down the supply chain - not just of our suppliers, but their suppliers down the line."
Digital's own staff moved to home working where possible, and Shinall thinks the results point to long term changes: "We have to strike a balance in future, but I've really been amazed at what we can do remotely. We are taking a very conservative and safe approach to re-opening offices."
The company handled new relationships remotely, such as its integration with Interxion: "Previously would have got on a plane to integrate new partners, but now we are using video conferencing."