Earth Wind & Power is looking into running medical research data on data centers powered by gas from Indonesian oil wells.
The Norwegian flare gas computation company is investigating a possible pilot project that would run medical high performance computing (HPC) for an Austrian science group on data centers it is settting up in Indonesia - powered by otherwise-wasted natural gas burnt at oil wells.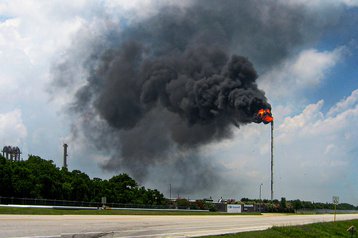 There are no dates or details to the agreement, which promises to "explore the possibility" of a "proof of concept pilot."
... it's still at an oil well
Austria's Society for Health Systems Analysis and Health Care Research (G3) is joining a feasibility study Earth Wind & Power (EWP) signed with PEP (PT Pertamina EP), the Indonesian national oil and gas company, back in March. EWP's idea is to deploy modular data centers, made by Germany's Cloud&Heat, that run on energy from natural gas which is routinely burnt off and wasted at oil wells, because it is less profitable than oil.
EWP claims flare gas is "green power" because harnessing it is better than simply wasting it. However, the Intergovernmental Panel on Climate Change and a global consensus of climate scientists have said the human race needs to urgently stop using oil, leaving most of the world's oil reserves in the ground.
Making oil wells a little bit less polluting does nothing to stop the flow of oil, and there are signs that the oil industry is using flare gas mitigation as "greenwash", making the oil industry look a little better, while providing a small extra income for more oil exploration. In June, Oman Investment Authority (OIA) and Mubadala Investment Company (Mubadala) of Abu Dhabi invested in "digital flare mitigation" provided by EWP's US rival, Crusoe.
Under the agreement, G3 and EWP will consider the possibility of trying out a test of a medical data center in Indonesia at a PEP oil well.
The arrival of G3 is a boost to the sector's claim to be producing a useful service from wasted resources, as most flare gas mitigation computation to date is believed to have been used for cryptocurrency mining, an activity whose massive energy demands have been widely criticized.
If completed, the proposed facility would work on digital medicine, virtual bioproduction, and digital health management, using a secure medical cloud. It could help produce new pharmaceuticals and new applications in digital health management such as data analysis. EWP and G3 have promised that medical data protection, anonymization, pseudonymization, and the digital sovereignty of health data will be guaranteed.
"I am thrilled to announce this collaboration with G3, which demonstrates the adaptability and viability of EWP's data center infrastructure solutions across different sectors. Alongside our work with Pertamina to capture and repurpose wasted energy to provide green power for our data centers, the partnership with G3 shows how we can take this power and create cost-efficient and decentralized solutions, ensuring climate-friendly operations" said a statement from Ingvil Smines Tybring-Gjedde, CEO and Co-Founder of Earth Wind & Power and former Norwegian Minister of National Public Security and Deputy Minister of Petroleum and Energy.
"We are excited to partner with EWP to jointly leverage the great potential of operating sustainable and decentralized data centers into one of the largest dynamic economies in Asia, and to guide Indonesia on the path to greater digital sovereignty and the reduction of climate-damaging emissions," said Professor A Min Tjoa, President of G3 and former chairperson of the United Nations Commission on Science and Technology for Development (CSTD).