Crusoe Energy Systems, a company that burns fossil gas to power crypto mining, has raised $505 million in capital - much of it from a venture fund that claims to have green credentials.
G2 Venture Partners has led a $350 million Series C equity round, while Crusoe has added $155 million in credit facilities, to fund an operation that burns flare gas at oil wells, and pumps the resulting energy into modular container data centers, parked by the wells, to make money from cryptocurrency while the gas flows. It currently has a pilot project with Exxon in North Dakota.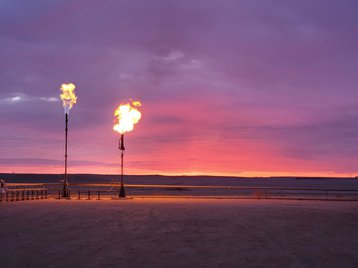 Crusoe is preparing to expand internationally, and launch a cloud platform.
Less methane
Crusoe's environmental claims are based on the fact that oil wells routinely waste natural gas, burning it off in "flares". These burn methane and release CO2, but they do it inefficiently, releasing a significant amount of methane, which is a greenhouse gas that is more potent than CO2 - albeit with a much shorter lifetime in the atmosphere.
Crusoe says its Digital Flare Mitigation data centers burn the gas more efficiently, reducing methane emissions and generating computing work from the energy. However, that computation is used for cryptocurrency mining, an activity that the IMF wants to regulate, and which uses a vast and increasing amount of energy globally at a time when the climate crisis demands that energy use be reduced.
The company has deployed 86 of its containers, which have "prevented an estimated 2.5 billion cubic feet of flaring and achieve up to 99.89 percent elimination of methane emissions," says Crusoe, without quoting how much methane would otherwise have been emitted in flares. "The company's deployed fleet of flare-eliminating data centers have a capacity to reduce CO2-equivalent emissions estimated at 650,000 metric tons per year, comparable to removing approximately 140,000 cars from the road."
Crusoe currently employs 157 staff, and expects to expand to 250 by the end of 2022.
"We are proud to partner with G2 Venture Partners. Their expertise working with high-growth companies in energy, digital, and climate technologies makes them a perfect fit for the next leg of Crusoe's journey," said Chase Lochmiller, CEO and co-founder of Crusoe Energy Systems. "The capital provided in this Series C financing unlocks Crusoe's ability to execute on key elements of our vision, specifically it enables us to expand and diversify our energy sources, computing workloads, and vertical integration."
The company has launched an alpha version of its CrusoeCloud computing platform, designed to offer cloud access to the GPUs it is placing alongside oil wells. This could potentially allow it to expand to useful work like graphical rendering, artificial intelligence research, machine learning, computational biology, therapeutic drug discovery, and simulation. The alpha version offers Nvidia a100 and a40 virtual machine instances, and is expected to move to a public launch during 2022.
"Eliminating methane emissions from flaring is an immediately actionable and impactful step toward mitigating climate change. Crusoe's technology converts stranded gas into valuable computing resources," said Ben Kortlang, Partner at G2 Venture Partners. "After a deep dive into flare mitigation and modular data center technologies, we concluded that Crusoe is the clear leader in scale, operational excellence, talent, vision, and proven commitment to environmental standards. This capital will enable Crusoe to deploy Digital Flare Mitigation at greater scale, to use its solution to accelerate renewable energy deployment, and to continue innovating its industry-leading technology."
G2VP now has a seat on Crusoe's Board of Directors alongside Valor Equity Partners, Bain Capital Ventures, KCK Group, and co-founders Chase Lochmiller and Cully Cavness.
Crusoe currently employs 157 people and plans to expand its workforce to 250 by the end of this year.
Other participants in the funding round include Valor Equity Partners, Lowercarbon Capital, Polychain Capital, Bain Capital Ventures, Founders Fund MCJ Collective, Winklevoss Capital, Zigg Capital, DRW Venture Capital, Atreides Management, Exor Seeds, CMT Digital, and Upper90.