CapitaLand Investment Limited (CLI) has started construction work for its 40MW data center in Hyderabad, India.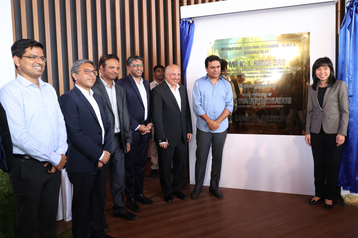 Located in the International Tech Park Hyderabad (ITPH), CLI hosted a groundbreaking ceremony on September 20 for the data center, alongside the launch of Block A - a 1.4 million sq ft building with office space, food courts, a convenience store, gym, daycare, and other facilities.
The data center will have a total floor space of 300,000 sq ft (27,870 sqm) once completed, and is described as being able to serve "international hyperscalers and large enterprises." An expected completion date for the data center has not been shared.
The data center shortly follows the completion of the first phase of redevelopment plans laid out by CLI for the ITPH. The company intends to redevelop the rest of the Tech Park in stages over the next seven to 10 years. It will ultimately offer around 4.9 million sq ft of office space as well as the data center.
Sanjeev Dasgupta, CEO of CLI India and CapitaLand India Trust, said: "Hyderabad is among the fastest growing markets for CLI in India where we have close to 30 years of experience.  We currently have 12 business parks across six cities in India, three of which are in Hyderabad.
"Our business parks in India enjoy a strong average occupancy rate of close to 90 percent, housing over 150,000 professionals from both multinational and local companies.  Besides our data center in ITPH, we have two data centers under development in Navi Mumbai and Chennai, and one being planned for at our International Tech Park Bangalore."
In May 2022, CapitaLand announced that it was exploring development possibilities for Hyderabad, Bengaluru/Bangalore, and Noida.
The company's first India data center is the Navi Mumbai facility, which will have a total of 90MW of capacity at full build-out and is expected to be ready in Q2 2024.
The company's Chennai development is expected to offer 55MW across 420,000 sq ft of data center space.
CLI is the India division of CapitaLand group, a Singapore-based real estate company. CLI has over 20 IT and business parks, industrial, logistics, lodging, and data centers across India in Bangalore, Chennai, Goa, Gurgaon, Hyderabad, Mumbai and Pune with a combined value of $2.93bn.