Keppel Corporation is planning to ship massive amounts of liquid hydrogen from Australia to power its data centers in Singapore.
The data center operator has signed an agreement with Australia's Woodside Energy which could result in up to 1,000 tonnes (1,100 tons) of liquid hydrogen being shipped in tankers to Singapore, from Woodside's facilities, which include a giant hydrogen plant known as H2Perth.
The hydrogen would be used to power a proposed floating data center campus known as Datapark+, which has just received regulatory approval.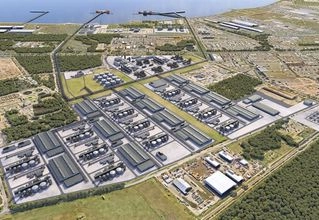 There is a huge demand for data centers in Singapore, as it functions as a hub for Southeast Asia, but development has been severely restricted by the government since the sector has massive demands for energy and land. Data centers are already using around seven percent of Singapore's electricity supply, and a major expansion would jeopardize any plans to decarbonize, since the island city-state's grid is almost entirely reliant on fossil fuel as an energy source.
Singapore imposed a moratorium on new data center projects in 2019, which was officially lifted at the beginning of 2022. Since then, the government has invited new applications to build data centers, within a strict total limit to the capacity available. Operators including SGTech have criticized the cap on new data center builds.
In response, Keppel took part in a study with Woodside, beginning in December 2022, exploring the possibility of a hydrogen supply chain from Australia to Singapore. Osaka Gas also joined the study to investigate the possibility of extending the hydrogen shipping route to Japan, which also has a high demand for data centers and a very limited green energy capacity.
Australia, with its large land mass, has great potential to produce renewable energy from solar and wind, and Woodside proposes to convert this energy into hydrogen which can be shipped in liquid form to other parts of the world.
The government of Western Australia is supporting Woodside's proposal for H2Perth, a hydrogen electrolysis plant to be built on 130 hectares of vacant industrial in the Kwinana Strategic Industrial Area and Rockingham Industry Zone, in south metropolitan Perth. The site aims to provide low-cost green hydrogen to local consumers and boost renewable power generation by providing a stable demand.
H2Perth also hopes to export around 1,500 tonnes per day of hydrogen - with Keppel potentially taking the lion's share.
The biggest potential issue raised over the plan has been the high demand for water, which is electrolyzed to produce hydrogen and oxygen. Electrolysis needs clean water, which will also be in demand owing to climate change. Seawater can be desalinated, although this is an energy-intensive process.
In the non-binding "heads of agreement", Woodside agrees to potentially supply around 1000 tonnes per day of liquid hydrogen to Keppel by 2030, the year in which the two parties expect the technologies to be in place for the supply chain
Keppel says the hydrogen would be used for Datapark+, the new name for the floating data center campus it has been developing for more than three years.
The Datapark+ name was revealed in a briefing released for Keppel's annual general meeting, in which Keppel said: "We have received approval from the regulatory authorities to proceed, and are currently in negotiations with the site owner for project deployment."
The company added: "We are also exploring the development of Datapark+, a nearshore data center campus project envisioned to be scalable, state-of-the-art, and low-carbon, bringing together the Group's diverse expertise in developing and operating data centers as well as clean energy and infrastructure solutions."
Previously, Keppel signed an agreement with Toll Group, an Australian subsidiary of Japan Post Holdings, to build the proposed floating data center park, and announced a location for it - Toll Group's Loyang Offshore Supply Base.
The company has also signed an agreement with Royal Lopaz for liquid natural gas, as well as a separate agreement with City Gas and City-OG Gas Energy Services to potentially supply LNG and hydrogen power for the floating campus.
Woodside Executive Vice President of New Energy Shaun Gregory said: "Liquefying hydrogen provides the opportunity to export energy that can contribute to the decarbonization goals of customers and provide an economic and trade opportunity that supports the Singapore-Australia Green Economy Agreement."
Keppel Data Centres CEO Wong Wai Meng CEO said: "We are investing to create a sustainable future for data centers through innovative lower-carbon solutions. Access to a stable supply of hydrogen to power our data centers in Singapore will accelerate our decarbonization efforts as we transition towards net zero emissions."