Dutch data center provider NorthC has begun construction of a 4.5MW facility in Eindhoven.
The 4,000 sqm (43,000 sq ft) data center will be NorthC's second in the Eindhoven/Brabant region of the Netherlands, next to the existing facility on the Eindhoven High Tech Campus (HTC). It will have generators that can run on natural gas or hydrogen.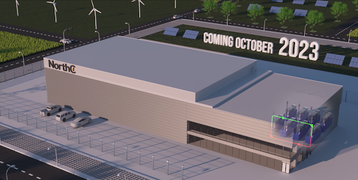 NorthC was formed in 2019 from the merger of Dutch data center firms TDCG and NLDC, originally a subsidiary of Dutch telecoms company KPN. In recent years, it has begun expanding to other European countries, buying Netrics in Switzerland as well as IP Exchange in Germany.
The new Eindhoven data center is due to open in October 2023, and will be NorthC's twelfth in the Netherlands and its 17th in Europe.
It will also be NorthC's second hydrogen-ready data center, as it is already building one in Groningen, with fuel cells for backup. Both will consume natural gas for backup until the local hydrogen supplies arrive. The new facility will use dual-fuel generators rather than fuel cells, however.
"The backup generators don't run on diesel. They run on gas or hydrogen," NorthC CEO Alexandra Schless told DCD in an interview. "In Groningen, the province is building an infrastructure for hydrogen. Ultimately, we can connect to this infrastructure directly. We are waiting for other regions as well to start."
NorthC claims a substantial carbon saving for its generators, even though they will only be used occasionally. The company says that the Eindhoven generators will save 75 tons of CO2 per year compared to diesel generators, equivalent to taking 37 passenger cars off the road.
The Eindhoven facility will not consume drinking water, and will also offer waste heat to other companies nearby. NorthC already shares waste heat at data centers including its Aalsmeer facility, one that it inherited from KPN.
The new data center will have direct connections to the existing NorthC data center in Eindhoven, and will also link to NorthC's Region Connect Ring, a fiber optic network between all its data center locations.