QTS has broken ground on a data center in Phoenix, Arizona.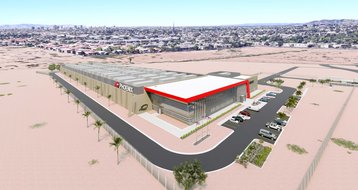 "On March 21 of this year, we hosted a successful groundbreaking event for what we call PHX2 DC5, marking the start of construction," the company said this week. "What started as just one data center has expanded quickly into a QTS Phoenix campus made up of what will be five data centers."
QTS currently operates a data center at 1200 40th Street, in Phoenix. The 337,330 sq ft (31,339 sqm), 42MW facility is the first in a planned 280MW+ multi-building campus set on 85 acres.
The company operates a second campus at 120 East Van Buren Street in downtown Phoenix. The 288,000 sq ft (26,750 sqm) facility offers 32MW of capacity.
QTS Realty Trust bought 400 acres of land in the Glendale area of Phoenix from industrial developer Merit Partners for a potential expansion last year.
Phoenix is a major data center market, with the likes of Prime, Stack, Vantage, EdgeCore, Iron Mountain, Meta, Expedient, NTT, Microsoft, and EdgeConneX operating facilities in the area.