Quantum Loophole and TPG Real Estate Partners (TREP) have formed a joint venture to develop a gigawatt data center campus in Frederick County, Maryland.
TREP, the dedicated real estate equity investment platform of asset firm TPG, has acquired a minority stake in new data center firm Quantum, with the investment partly used to fund the acquisition of a 2,100-acre property in Frederick County, Maryland.
"Partnering with TREP strengthens our vision, setting us firmly on the path to build the first-ever mass-scale gigawatt data center community," said Josh Snowhorn, founder and CEO of Quantum Loophole. "This project marks the first comprehensive approach to data center development inclusive of environmental impact, efficiency in power use and distribution, fiber connectivity, and a streamlined approach to construction."
Previously known as Alcoa Eastalco Works, the acquired site is a former aluminum smelting plant in Adamstown, about 25 miles due north of Ashburn, Virginia. Site owner Alcoa reports the deal was valued at $100 million; The sale transaction was completed last week between Alcoa Corp subsidiary Eastalco Aluminum Company and the new QL-TREP joint venture.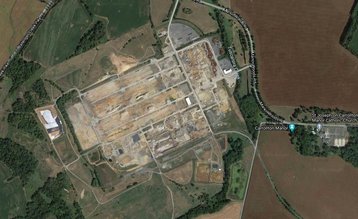 "When Alcoa closed the Eastalco site, we made a commitment to bring this property back into productive and sustainable use," said Mark Stiffler, Alcoa's Vice President for Asset Management. "The sale to Quantum Loophole and TREP is a story of economic and environmental sustainability, taking a former industrial site through the remediation process and bringing it forward for a new industrial use."
With aims to create a 1GW campus, Quantum Loophole says it expects to deploy individual data center modules of 30-120MW capacity in less than nine months. The company is also planning to build a new "massive" fiber ring to connect to the neighboring data center hub of Northern Virginia.
"Demand for cloud computing and cloud-based services has grown rapidly over the past decade, and Frederick County is an important growth outlet for the Northern Virginia data center market," said TREP MD Ty Newell. "With industrial zoning and access to significant power capacity, the development site will offer several benefits to a fast-growing hyperscale tenant base that is intensely focused on speed of delivery."
As well as former Terremark and CyrusOne executive Snowhorn, Quantum Loophole counts LitBit's Scott Noteboom as CTO, and data center veteran Sylvia Kang as VP of Real Estate. Former CyrusOne CEO Gary Wojtaszek will be on the board, while Equinix co-founder Jay Adelson is an advisor.
The company raised $13 million in seed funding earlier this year with plans to serve hyperscalers and wholesalers. TPG did not specify the size of its investment nor the stake it took in Snowhorn's company.
"The Eastalco property is ready and ideal for a data center project of unprecedented scale," added Snowhorn. "We are changing the way hyperscale data center developments are deployed, and this Maryland location has the entitlement, power, water, and proximity to Northern Virginia that the Internet industry needs for success."
The Eastalco site opened in 1970 as a plant for the French and Japanese partnership Howmet/Pechiney. Through a series of mergers and acquisitions, the plant was bought by Alumax in 1983 and by Alcoa in 1998. The facility closed in 2010 and demolition of the facility was completed in 2017.
"This is big news for Frederick County! I am pleased that the former Eastalco property will once again serve as an employment center with high-paying jobs," Frederick County Executive Jan Gardner said. "Quantum Loophole has committed to develop an environmentally sensitive data center project that respects and values the surrounding community and our Livable Frederick Master Plan."
As with many US states, Maryland last year passed data center tax incentives that offer an exemption from the state sales and use tax for up to 20 years.