External building work on a new Digital Realty data center in Frankfurt, Germany, has been completed.
Construction firm Mercury last week announced it had completed the shell and core construction work for Digital's FRA33 facility in Hattersheim.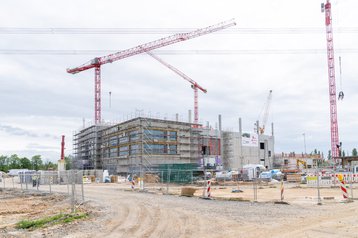 Sat within Digital's new campus on Kastengrund (known as Digital Park Hattersheim), the new facility will offer 40MW of IT capacity across 16,000 square meters (172,222 sq ft) of white space.
The first 10MW phase is set to go live by Q3 2023, with full build-out scheduled for Q4 2026.
"The topping-out ceremony for the first construction phase of our new data center FRA33 is an important milestone - not only for Digital Realty, but also for the business location Rhein-Main because we are creating space for sustainable digitization," said Volker Ludwig, SVP and MD DACH at Digital Realty.
Digital Realty broke ground on FRA 33 in April 2022. A second building, FRA34, is also set to be built on the 13.8-hectare site, taking the campus to 70MW and 28,000 sqm (301,390 sq ft).
Hattersheim is located west of Frankfurt, near the city's airport. The site was previously an animal testing facility operated by French pharmaceutical company Sanofi-Aventis until 2010; it was later used as a vaccination center until the local government sold the land to Digital Realty for around €57 million.
NTT also operates a former e-shelter facility in the town that opened in 2019. Keppel operates a facility nearby in Kelsterbach it acquired in 2020 from Maena KG.
Digital operates more than 20 facilities across five sites in the Frankfurt area.