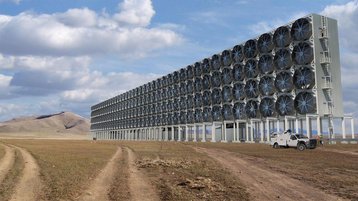 "DAC, combined with permanent storage through standalone sequestration, will play a critical role in reversing climate change," said Stacy Kauk, director of Shopify's Sustainability Fund.
"We're Carbon Engineering's first customer because we recognize the need to go beyond emissions reductions. Our commitment to this new carbon dioxide removal service is not powerful enough on its own - we need others to join Shopify's efforts, in any capacity, to catalyze this frontier large-scale DAC technology."
The company previously closed its own colocation data center footprint and shifted to Google Cloud, partially because the service is powered by renewable energy.
"Early customers for direct air capture (DAC) — especially companies with ambitious climate goals — can have an outsized impact today," Noah Deich, president and founder of the climate advocacy group Carbon180, said. "Not only does procuring DAC services enable companies to hit 'net-zero' pledges faster, but it helps DAC technology come down the 'learning curve,' driving cost reductions and making DAC services more affordable and accessible for a wider customer base in the future."
"I'm very excited to see Carbon Engineering announce a way for early corporate leaders — and hopefully a wave of fast followers — to devote more of their climate spend toward DAC."
Carbon Engineering plans to sell carbon removal by the metric ton, offering an avenue for climate-focused corporations to reduce their footprint.
Even if humanity manages to drastically reduce its carbon emissions, it will not be enough to avoid significant climate change.
In a 2018 report, the Intergovernmental Panel on Climate Change said that to limit global warming to a still-damaging-but-not-devastating 1.5 degrees Celsius, we would need to remove around 100 to 1,000 gigatons of carbon dioxide from the atmosphere during this century.
But the technology for DAC is still in its early stages, and very expensive. A 2021 study by Microsoft found that direct air capture is more than 50 times the cost per metric ton of most natural climate solutions, such as planting trees or sustainable farming practices.
Many DAC companies also sell the CO2 to cover costs - sometimes to oil extraction companies. Carbon Engineering can use captured CO2 to make a fuel that, once burned, releases the emissions back into the atmosphere.
Microsoft has ambitious plans to remove all of its lifetime carbon emissions by 2050. For the first year of its removal procurement, more than 99 percent of its purchases went to short-term natural solutions.
"While we are hopeful that innovation will spawn many more long-term solution options, we funded only one direct air capture project and one bioenergy with carbon capture and storage (BECCS, in the form of bio-oil) project this year," the company's report said.
Microsoft signed a small contract with Carbon Engineering rival Climeworks, which is also aiming to capture and store emissions.