Telecom Italia/TIM's Sparkle unit has launched a data center in Panama.
The company this week announced the launch of the Panama Digital Gateway in partnership with local telco Trans Ocean Network (TON).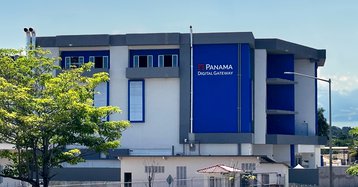 Located in the Corozal area of Panama City, the new Tier III-certified (Design) building offers 5,500 square meters (59,200 sq ft) of space for up to 650 equivalent racks across five modules and 3.5MW of scalable power.
The new facility is the landing point of the Curie cable system connecting California to Chile with a branching unit into Panama developed by Google and Sparkle.
"Panama Digital Gateway consolidates and positions Panama as the digital hub of the region, strengthening the connectivity of our country, and becoming a strategic interconnection offer for OTTs, carriers and enterprises," said David Gonzalez Solis, CEO of Trans Ocean Network. "We are very pleased to be participating in the construction and operation of this open hub in conjunction with a partner of experience and global scale such as Sparkle."
Enrico Maria Bagnasco, CEO of Sparkle, added: "The development of infrastructures in the Americas represents a pillar of Sparkle's plan to consolidate its positioning in the telecommunications wholesale market while reinforcing its offering of digital solutions."
He continued: "Panama is a natural crossroad of Central America and a bridge between the Atlantic and the Pacific as well as a strategic cross-point between North and South America. Our Panama Digital Gateway aims to be the reference landing hub of new submarine cables and the center of choice to develop an ecosystem of interconnected players."
The two companies first formed a joint venture in 2021 to build the new facility. It was originally expected to be completed in 2022 but, according to Sparkle, was delayed by the pandemic and supply chain issues.
Panama is currently connected to six subsea cables, including ARCOS, Curie, Maya 1, Pacific Caribbean Cable System, Pan-American Crossing, and the South American Crossing cable. An additional two cables are under construction currently: Caribbean Express, which is due in 2026, and Carnival Submarine Network-1, due live in 2025.
Launched in 2019, the 10,500km/6,500 mile-long Curie delivers 72Tbps of bandwidth across four fiber pairs to South America. Curie landed in Valparaiso in April that year and was the first submarine cable to connect to Chile in 19 years.
In March 2023, DCD reported that Layer 9 was exploring options for a second project in Central America and was considering Panama as a possibility. Latin American fiber firm Ufinet recently launched a new data center in Panama City.