Vertiv has launched a cooling unit for Edge applications and small computer rooms, in Asia.
The Liebert DM handles from 7kW to 27kW of heat and is now available in Southeast Asia, Australia, and New Zealand.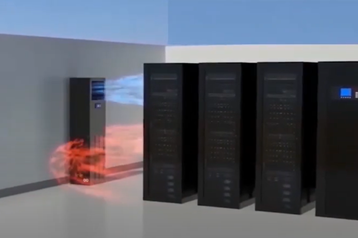 The floor-mounted unit uses intelligent algorithms to control temperature and humidity, preventing overheating and downtime of IT equipment in small IT rooms and Edge infrastructure, in the banking, healthcare, government, transport, and energy sectors.
It has a sensible heat ratio (SHR) greater than 0.9 - meaning 90 percent of the load goes to reducing temperature rather than humidity. This is different from an office aircon unit, and better for cooling IT environments, Vertiv says.
The unit operates automatically, with remote management, and easily understood touchscreen controls with a graphic display. It can also be used in battery rooms and control rooms within industrial and manufacturing environments.
Four units can be hooked together, and programmed to operate in rotation for higher reliability. For example, four Liebert DM systems could run in a scheduled cycle distributing the load for greater efficiency. The system's sensors detect failure, triggering an alarm for immediate action. It also gives email and SMS notifications.
Many of today's businesses rely on sophisticated IT processors to enable digital applications in their day-to-day operations. Any failure in these delicate components can lead to potential breakdown and failure, which can have disastrous results. That's why for these applications, using precision cooling versus comfort cooling is recommended for optimal operation of the IT equipment," said Preetam Shah, director for Edge thermal solutions, Vertiv Asia & India.