Update: Zoom also uses AWS, Amazon told DCD.
Zoom, the video conference application which has taken the world by storm during the Covid-19 lockdown, has picked Oracle for its cloud infrastructure.
The enterprise software vendor is a surprising choice for Zoom, with Oracle cloud having a much smaller presence than Amazon, Microsoft and Google, but two weeks ago Oracle founder and CTO Larry Ellison heaped praise on the conferencing service, calling it an "essential service."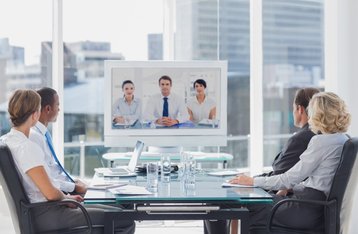 Needing capacity
When large parts of the world were given the order to stay at home to limit the spread of the Covid-19 virus, Zoom Video Communications usage shot to 300 million daily users, and the company started looking for extra capacity in a hurry.
Zoom put hundreds of thousands of Zoom participants onto the Oracle Cloud within hours of deployment, and now has millions of simultaneous meeting participants on the service, requiring more than seven petabytes of data transfer every day (roughly equivalent to 93 years of HD video).
"We explored multiple platforms, and Oracle Cloud Infrastructure was instrumental in helping us quickly scale our capacity and meet the needs of our new users," said Zoom CEO Eric S. Yuan. "We chose Oracle Cloud Infrastructure because of its industry-leading security, outstanding performance, and unmatched level of support."
Another factor worth mentioning is that Microsoft Teams and Google's Hangouts both compete with Zoom.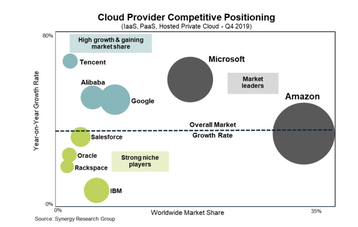 But why Oracle?
Not everyone saw the choice as so obvious. Synergy Research described Oracle as a "niche player" in a February release which showed it as lagging behind IBM, Alibaba and Tencent as well as the three leaders in public cloud, AWS, Microsoft, and Google.
One theory is that tying up with Oracle would endear Zoom to the big enterprise customers who might see it as an upstart more suited to smaller businesses and consumers, with well-publicized shortcomings in security. "Zoom needs to prove to enterprises that they are able to handle scale and data security needed to beyond what SMBs typically require," Brent Leary, founder at CRM Essentials, told TechCrunch.
Another factor may be price, with Oracle likely to have made a very strong offer to get business from a high-profile client which is currently riding high. Unlike Microsoft and Google, the company also does not compete with Zoom.
There has very likely been plenty of negotiations behind the scenes. Today's announcement certainly makes sense of a video published two weeks ago, in which Oracle founder and CTO Larry Ellison makes an apparently-unsolicited testimonial to the service.
"Zoom has become an essential service for Oracle, for companies in the United States, and companies around the world. It's allowed the economy to continue to function, even though we are facing a Covid-19 pandemic," said Ellison, explaining that the service "allowed us to continue doing engineering and continue to do customer support, and continue to do sales, even though we are still working at home."
Looking forward, he said: "The way we work will never again be the same. We will now meet not just face to face. We'll meet sometimes face to face, and sometimes digitally by Zoom."