RZ-Products and Sterling & Wilson have delivered a prefabricated data center to the Faisal Islamic Bank of Egypt.
Indian engineering & construction company Sterling and Wilson, a Shapoorji Pallonji group subsidiary, along with DCG Data Center Group subsidiary RZ-Products, delivered the modular prefab project to the Egyptian financial company in Cairo. The two companies claim it is the first such development in the country.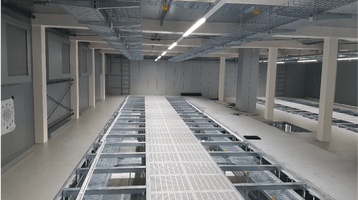 "We are delighted to have successfully handed over our maiden project in Egypt, a first-of-its-kind in the region," said Prasanna Sarambale, CEO of Sterling and Wilson's data center business. "It gives us immense pleasure to meet customer's unique requirement of scalable, safe, compliant, and cost-effective data center solutions."
Established in 1979s, Faisal Islamic Bank of Egypt SAE is a 'shariah-compliant' financial institution headquartered in Cairo. It claims to be the first Egyptian Islamic and commercial bank.
The project comprises a DC-IT-Room GranITe ECB-S solution for the IT space, a QuartzITe-Room 9.0 for two power rooms. The companies said the 'room-in-room' data center solutions are fully ECB-S compliant and are protected against explosion, fire, water, corrosive gases, vandalism, intrusion, eavesdropping/radiation, noise, dust, and debris.
"Faisal Bank had the highest expectations in terms of quality, availability and physical protection of their critical IT infrastructure, and we are glad that our German engineering, combined with a global track record of projects already delivered, from private corporations to governmental entities, made the difference, thus building a bridge for further projects in Egypt and on the continent," added Jörgen Venot, Head of Sales and Marketing for DCG and RZ-Products.
DCG also recently commissioned a data center in the Offenbach area of Frankfurt, delivered to Main DC.