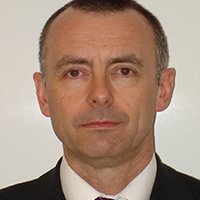 Stuart Kay
Business Development Director
,
Airedale by Modine
Stuart Kay is Business Development Director for Airedale International Air Conditioning Ltd. Stuart has been involved in specifying some of the UK's most important data centre installations since the 1990s. With over 30 years' experience, Stuart's understanding of past and leading-edge technological developments within the industry arm him with a unique knowledge bank that can be applied both to designing new build data centres as well as re-engineering the vast installed base.
Staurt holds deep level understanding of the challenges associated with the design and integration of critical cooling solutions for data centres. By providing a valuable client-side perspective, he has played a key role in helping inform Airedale's product development which has seen the British manufacturer pioneer some of the most important transformations in chiller, IT cooling, refrigerant and free-cooling technologies and win numerous awards for innovative, energy-efficient data centre solutions.
Outside work, Stuart is a keen health and travel enthusiast and can often be found out on a road bike, or exploring some of the world's most challenging and picturesque landscapes.