Singapore
Watch sessions on-demand
The virtual conference for the ASEAN data center industry
Cool & Control Tech Showcase
This session took place on September 16, 2020
Please complete the following form to access the full presentation.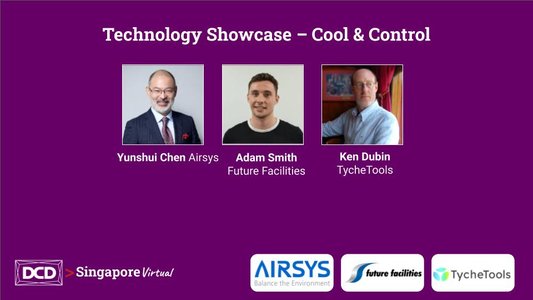 Cool & Control Tech Showcase
A series of quick-fire presentations showcasing the latest technologies to cool and automate data centers in the Southeast Asian market.
Future Facilities: Co-Simulation for Hybrid Air/Liquid Cooled Data Centres
The data centre Digital Twin allows you to build a virtual data centre that mimics a real life facility, allowing you to safely predict the impact of change. Using 6SigmaDCX you can now build a 1D liquid flow network alongside a 3D virtual model. This session will show you how you to use the software's unique co-simulation functionality to predict the performance of a hybrid air/liquid cooled data centre. 
TycheTools: Title: Towards the Digital Transformation in Data Centres
Airsys: The Future of Data Infrastructure Cooling
The industry faces major transformation over the next five years. From 'Free Cooling' to 'Cooling Free' and from a CAPEX to OPEX infrastructure investment model. This session guides you through the obstacles to be aware of, and opportunities to capitalize on, as we move towards 2025 and beyond.
Speakers
Brought to You by