Arc Flash Safety
Course Description
Arc flash incidents are seen more and more within the mission critical environment and it currently represents the number one cause of live electrical work injuries. Occurring for several reasons with an ever increasing and alarming frequency an arc flash incident is a high risk event and can result in devastating consequences. To put this into perspective an arc flash blast is more often than not hotter than the surface of the sun.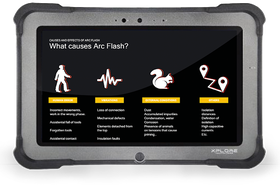 Learning Objectives
Know the causes and effects of arc flash (AF)
Understand the phenomenon of AF
Know the main normative references
Prevention of Arc Flash
The main steps of an AF study and risk assessment
What safety distances are applicable in an Arc Flash Study
Correct selection of personal protective equipment (PPE)
This course has met the required standards for and is endorsed, approved or accredited by the organisations listed below. Upon successful completion of this course, individuals are eligible to obtain CPD/ PDH units. Further details about our relationship with each organisation will be made available upon request.
Key Topics
Arc Flash within the Data Center
Causes and Effects
Short Circuit Study
Evaluating Risk
International Standards
Personal Protective Equipment
Prevention