Outdoor Edge cabinet maker Dataqube has adopted cooling systems from LiquidCool Solutions, and gained exclusive marketing rights for the products.
Dataqube has invested in LiquidCool, and gained exclusive rights to some LiquidCool products in various markets. These products, the ZPServer rack module, and a newly-launched MiniNode Edge box, will be used in Dataqube's Edge data centers, which are designed as flexible roadside cabinets instead of the traditional shipping container shapes offered by some other vendors.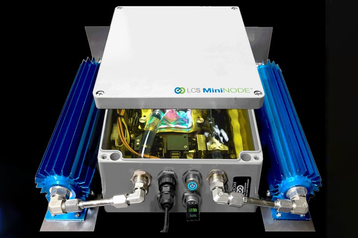 Dataqube says it will be deploying LiquidCool-based systems by the end of 2022.
LiquidCool breaks silence
The newly-launched MiniNode is a sealed box for Edge applications like cell towers, and other harsh environments. The liquid-cooled system inside uses eco-friendly dielectric fluids.
The company also provides ZPserver ("Zero Pressure Server") unit - modular sealed units which fit into existing server racks and have a claimed partial PUE 1.03.
LiquidCool claims that: "One liquid-cooled rack can replace four air-cooled racks within a data center, saving energy and space and eliminating capital and maintenance costs. No more complex air handling systems, ductwork, filters, or CRAC units."
LiquidCool has existed for some time, first speaking to DCD back in 2014, and launching a liquid-cooled Edge appliance in 2017, in which each blade is separately sealed in a module in which coolant circulates.
In 2018, the company replaced founder CEO Herb Zien with former Seagate executive Darwin Kauffman, and then went quiet. It seems that Kauffman lasted one year in the CEO role, and now lists the post as "Interim CEO." The current CEO, Ken Krei, has been in post since 2020.
"LiquidCool Solutions has come a long way since 2018," said Herb Zien in a message to DCD. "Although our chassis-based single-phase immersion technology offers significant cost and environmental benefits across the computing spectrum, we are focusing on Edge computing, data centers, and harsh environments."
To back this up, Zien shared a slide deck that compares LiquidCool's technology with other vendors' offerings, saying that its chassis-based design uses less space than immersion tanks, provided by the likes of GRC, Submer, or Asperitas. The other vendor offering rack-based systems is Iceotope.
The LiquidCool presentation claims that Iceotope "cannot operate in key world markets without infringing LCS patents."
DCD has asked for clarification of these patents, and also the terms of Dataqube's investment.
Zien said: "We think DataQube offers the best modular solution for the edge market and we plan to grow together."
"We have already secured a major deal in the US to augment our presence in North America," said a statement from David Keegan, Group CEO of DataQube Global. "Investing into LiquidCool Solutions cements our position as a serious player in the data center industry."
LiquidCool CEO's statement said: "We are extremely happy to formalize our relationship with Dataqube Global. Their rapidly expanding presence in edge computing and harsh environment markets provides LCS new opportunities and complements the growth plans of Dataqube.  The relationship with Dataqube is a key element for introducing our patented chassis-based single-phase immersion technology to the burgeoning Edge and data center markets."
Dataqube recently partnered with Australia's Edge Centres to deploy 20 DataQube boxes in the US, and has previously announced it was working with cooling specialist Primaria to test the use of R32 refrigerant instead of the more usual R134a and R410a.