Polish software firm Comarch has launched its first data center in the US.
The company this week announced the opening of its new 32,000 square foot (3,000 sqm) data center in the Mesa area of Phoenix, Arizona.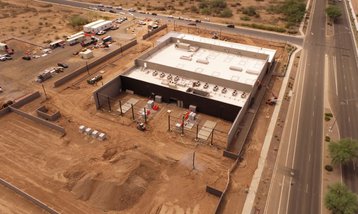 The new data center currently houses four server rooms with 160 racks and will offer services including managed services, cloud hosting, colocation, disaster recovery, and backup services. It will also offer meet-me rooms (MMR).
"The opening of the new data center in Phoenix is part of Comarch's global expansion strategy, which aims to provide innovative and scalable IT solutions to clients across a wide range of industries," the company said. "With its advanced infrastructure and commitment to security and reliability, the new facility is poised to become a leading provider of data storage and processing services in the region."
First announced in June 2021, the facility was originally set to open in mid-2022. Built on a three-acre site at Ellsworth Road and Prairie Avenue in the east of the city, the company said at the time it intended to invest about $22 million in the project, with the Weitz Company as the general contractor.
Founded in 1993, Krakow-based Comarch provides software and integration services including operations, CRM, ERP, and cybersecurity. It also offers a number of cloud solutions and services.
Comarch currently provides data center services for American clients from rented spaces in Chicago and Columbus, as well as in Montreal and Toronto. The company previously said all of its North American infrastructure is set to be moved to Mesa.
The company has its own server rooms in Poland in Krakow and Warsaw, as well as in France and Germany. It also offers services in Dubai, Kuala Lumpur, and Australia.
More in Construction & Site Selection