Intel has announced a $700 million research lab in Hillsboro, Oregon, dedicated to sustainable data center technology. The company also promised an open IP immersion cooling design - but gave no details.
The Hillsboro Lab will be a 200,000 sq ft (18,580 sqm) facility on Intel's Jones Farm campus, due to open in 2023, and look at areas such as heating, cooling and water usage, while testing Intel's data center products, and providing a tech showroom for customers.
Meanwhile, the company promised to share an open intellectual property (open IP) reference design for immersion liquid cooling, to be created in Taiwan and rolled out globally, but gave no further details except a picture of an immersion tank with an Intel logo.
DCD has asked for more details.
Further Oregon expansion
The new "mega lab" will look at existing Intel products as well as those in development, and will hav a showcase for customers and partners to see Intel products at work in data centers.
The announcement follows an announcement of a $3 billion expansion to Intel's D1X chip fab in Ronler Acres, Hillsboro. Intel has some 22,000 staff in Oregon, making it the largest employer in the State. Jones Farm is one of four campuses in Oregon.
"We are incredibly excited about this announcement of a 'Mega Laboratory' coming to the Jones Farm campus," said Hillsboro mayor Steve Callaway. "This latest $700 million investment positions our community well into the future as the central location for Intel's Research and Development. It's a great day to be in Hillsboro, Oregon."
Dan Dias, economic and community development director, Hillsboro, called for more government recognition: "This project also exemplifies why Hillsboro, Washington County, the Portland region, and the State of Oregon are the national semiconductor innovation hub and should be a focus of federal consideration for further investment and support to maintain the United States' and the State of Oregon's global leadership within this critical industry."
The Intel release contained no details or links for the reference design, which it called "the industry's first open IP data center immersion liquid cooling solution". Intel promises it will be easy to deploy and scalable, and will help Intel handle the trend of increasing power density.
Liquid cooling systems are increasingly acknowledged as the best solution to handle increasing power density in server racks, as liquid can remove heat more efficiently than air. The technique has become widespread in supercomputing but faces barriers to wider acceptance in data centers, because it requires different infrastructure and stronger floors to carry heavy immersion tanks.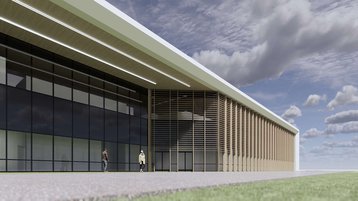 Standardization has also been an issue. There are multiple immersion cooling system vendors including GRC, Asperitas , Submer, and TMGcore, which offer tanks, while Iceotope and LiquidCool run coolant in vertical racks. Alongside these, other vendors including Zutacore and LiquidStack are promoting two-phase cooling where the fluid is allowed to boil, removing more heat.
Intel says the "will be completed in partnership with Intel Taiwan", which suggests the reference design is not yet complete. The words "in partnership" suggest the project won't be entirely in-house (unless the partnership is between Intel and Intel Taiwan).
Intel's picture appears to show an immersion tank like those of GRC, Submer, or Asperitas. The company has certainly tested immersion tanks from multiple vendors. It first tested a GRC immersion tank back in 2012, and restated the partnership earlier in 2022. Last year it also announced a partnership with Submer to develop immersion cooling technology.
The design will be offered in a "phased approach" - first appearing in Taiwan. and then rolling out globally with partners.
The promise that this will be an open IP system suggests there may be some overlap with open-source hardware group the Open Compute Project (OCP) which has its own liquid cooling group hoping to produce and share open liquid cooling designs.
We note that Taiwan is the home of server maker and Intel partner WiWynn, which has its own liquid cooling investments. Wiwynn has had a partnership with Microsoft and has also invested in LiquidStack. This is most likely a red herring as both of these are two-phase systems, unlike Intel's apparent immersion tank plan.
The answer to the mystery may lie in a footnote to Intel release, which links to a brochure on liquid cooling which comes from 2CRSi, a French company. 2CRSi resells Submer's SmartPod tanks, so on balance it looks as if Intel's plan may revolve around Submer's SmartPod.